Berry King Waterproofing SA, Kempton Park
Berry King Waterproofing SA has been in business for 25 years and offers a variety of services, including waterproofing, rising damp prevention, painting, guttering services, and home renovations
Berry King Waterproofing SA provides clients with Scientific and Engineered turn-key solutions for waterproofing, damp-proofing, and roofing, as well as other related services such as guttering, drainage, down-pipe sealing, tanking, and painting. Whether you're tackling a residential, commercial, or industrial project, we have the professional skills, services, and products to address all your requirements.
Berry King Waterproofing is a specialized waterproofing company and does not conform to the known traditional methods of waterproofing or resolving rising damp. Most of our products come with solid long-term warranties/guarantees, are of high quality, are not DIY and cannot be bought at any hardware store.
Should you compare pricing with another company, you will not be doing a like-for-like comparison. Should you have an interest in our application process and or doing business with our company, we would be glad to see how best we can accommodate your projects and processes to get your home 100% waterproofed.
SERVICES:
Waterproofing
Berry King Waterproofing provides the smartest engineered solutions to fix and prevent a range of possible waterproofing disasters. All our roofing and slab solutions come with guarantees from applicators and warranties from the manufacturer. We don't ever compromise on quality and seek to deliver optimal solutions for residential and commercial projects.
Berry King Waterproofs the Following Areas:
Corrugated Roofs
Tiled Roofs
Commercial Roof
Concrete Roofs
Balcony and Patio Leakage
Slab Roof
Rising Damp
Rising damp is a relatively common form of damp that affects the walls of buildings. It occurs when moisture from the ground travels up through the walls by capillary action. This means that groundwater is effectively sucked up through tiny tubes in the bricks, like a series of straws. This water contains salts that also travel up through the wall.
For more information, please visit: Berry King Waterproofing SA - Rising Damp Solution
Painting
Interior and Exterior Painting Done with Confidence. The paint we use has been developed to the highest standards. We are proud members of the SAPMA and we are also an SABS-approved company. Our paint has been used in premium residential and commercial projects, including Blair Athol Estate, Dainfern Golf Estate, Woodhill, Serengeti Golf Estate, Dun Blane.
Guttering
Gutters are an important aspect of every building as they effectively push water away from walls and foundations. Our mainline guttering products are seamless gutters, roll formed on site from pre-painted coils of colour lume, a zinc and aluminium alloy, profiled in a modern and timeless "Ogee" style. We also do specialised gutter systems, boxed gutters in various sizes, and other applications with rainwater heads (hopper boxes).
Home Renovations
Home Renovation Services We Provide:
Home Renovations: We assist with the planning and offer full-time supervision till completion.
Flooring: tiling, wooden flooring, laminate flooring, carpets.
Painting: Domestic Homes, Commercial Offices, Housing Complexes
Roofing: For all of your roofing and trust requirements.
Home Additions & Alterations: Berry King assists with the planning and offers full-time supervision till completion.
Click on the image below for a larger view: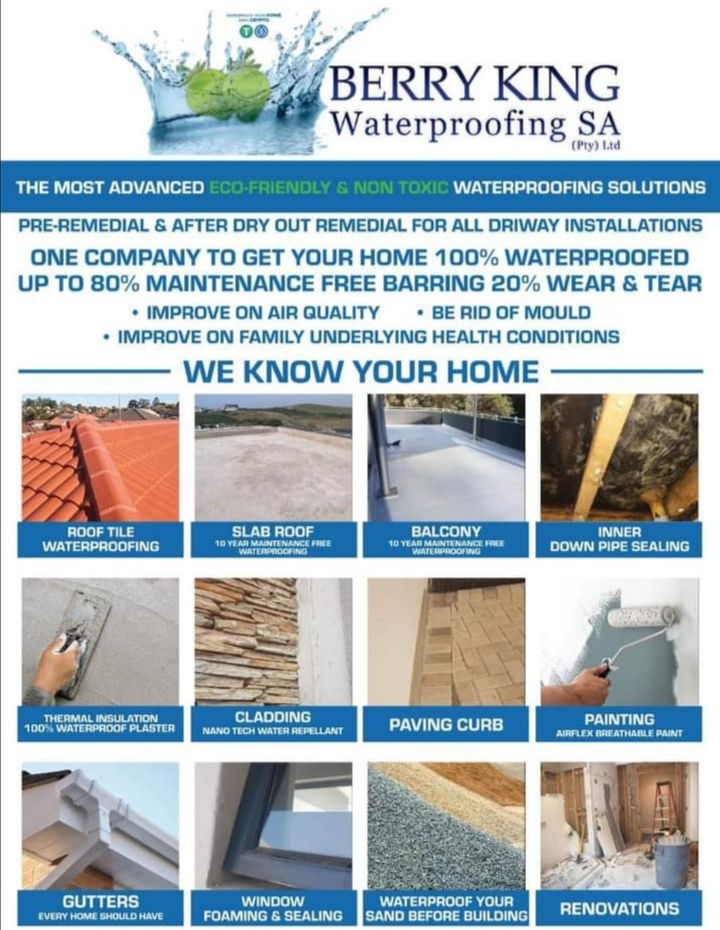 Please contact the team at Berry King Waterproofing SA directly for bookings and enquiries.
WATCH OUR VIDEOS:
CONNECT WITH US
Follow us on Facebook
TikTok
Youtube